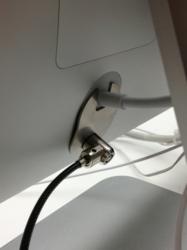 (PRWEB) July 11, 2013
Apple's latest model of the iMac 27″ has it all; with all-new ultrathin design, beautiful widescreen display and the latest technologies such as breakthrough new storage options, the slimmest iMac yet is also the most powerful. For $ 1,800 you'll get the basic 8GB RAM and there are two alternate upgradable options; 16GB for additional $ 200 and 32GB for $ 600. The costly RAM can be easily removed from the iMac through the surprisingly accessible RAM panel. The RAM on hundreds of iMac units in public and learning settings can be targeted as a valuable piece of hardware that is easy to steal.
This led Maclocks to develop and introduce its latest product- The Maclocks iMac Lock and Security Kit. Maclocks is the first company to offer a complete security solution for Apple's iMac 27″ that enables locking the RAM panel and avoiding your iMac from being removed by unwanted borrowing, tampering and theft.
Maclocks furthered its reputation as an innovator last summer when it was the first company to introduce the only viable security solution for the new slimmer generation of Apple's MacBook Pro Retina models. Maclocks other innovative solutions include the world's first iPad Lock, and the only viable MacBook Air Lock.
"The iMacs power cord is unsecured allowing for the RAM panel to be easily opened. Once the iMacs power cord is removed it allows for easy access to the RAM ports subjecting it to theft and tampering. Standard universal cable locks only protect the theft of the device and provide no security to the power cable and its inner components," says Alexander Gad, Maclocks GM.
"Maclocks developed the perfect solution for it- our Maclocks iMac Lock and Security Kit includes a specially designed steel security plate and iMac Cable Lock. The plate prevents removal of the power cord and access to the RAM panel, providing theft deterrent and tamper proof security."
The new iMac Lock and Security Kit includes a stainless steel RAM security plate and super slim security cable with a patented peripheral cable trap.
The new iMac Lock and Security Kit for both 21.5 and 27 models is now available for order on Maclocks website for just $ 39.95, the stainless steel RAM security plate is also available separately for $ 9.95 and can be used with most standard security cable on the market.
About Maclocks
Maclocks is a leading brand and the premier designer and manufacturer of locking and display solutions for Apples line of iPad, MacBook air, MacBook Pro, Mac mini and iMac devices.
Maclocks security products and display solutions are the first choice for over 30% of Fortune 1000 companies across the U.S. and Europe Union.
Maclocks works with its partners and customers to answer their security requirements through innovation, integrity and commitment to the highest level of customer service. Maclocks owns over 100 patents in the field of hardware security and invests heavily into R&D and quality control to produce the solutions you need using the highest quality materials.
Maclocks' line of Apple peripherals is sold to corporations, educational institutions, state and federal government agencies, and retail and wholesale distributors worldwide.